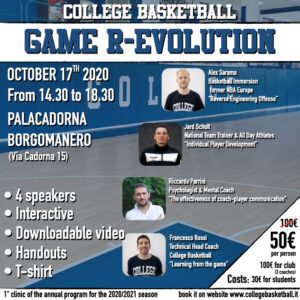 1st Clinic of the 2020/2021 season of College Basketball, with 4 speakers including 3 special guests:
Jard Schuit – trainer and athletic coach of the Dutch national team
Riccardo Parrini – psychologist and Mental Coach with "The effectiveness of coach-player communication"
Alex Sarama – an analyst at Basketball Immersion with "Reverse Engineering Offense"
Francesco Rossi – Head of the College Basketball youth sector with "Learning from the game
The clinic took place on Saturday 17 October 2020, at the PalaCadorna in Borgomanero.
You can choose to buy the complete pack of the event (4 videos + 4 speakers slides) or the single part that you're interested in.
The 2 Italian parts are full English subtitled.
*After that you'll purchase the product, you'll receive an email from College Basketball with the links to download the videos
————————————————————————————————————————————————————————————————————————————
1 ° Clinic della stagione 2020/2021 di College Basketball, con 4 relatori di cui 3 ospiti speciali:
Jard Schuit – allenatore e preparatore atletico della squadra nazionale olandese (la sua parte sarà solo in inglese)
Riccardo Parrini – psicologo e Mental Coach con "L'efficacia della comunicazione allenatore-giocatore"
Alex Sarama – analista di "Basketball Immersion" con "Reverse Engineering Offense" (la sua parte sarà solo in inglese)
Francesco Rossi – Responsabile del settore giovanile di College Basketball con "Imparando dal gioco"
Il clinic si è svolto sabato 17 ottobre 2020, presso il PalaCadorna di Borgomanero.
Puoi scegliere di acquistare il pack completo dell'evento (4 video + 4 diapositive dei relatori) o la singola parte che ti interessa.
Le 2 parti in italiano sono sottotitolate in inglese.
* Dopo aver acquistato il prodotto, riceverai una mail da College Basketball con i link per scaricare i video
Bookings are closed for this event.